Apprentices receive tablets for e-learning platform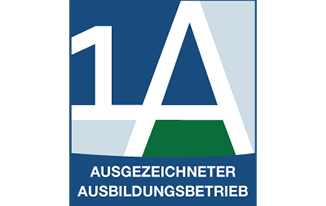 The parent company of Josef Ganter Feinmechanik GmbH, medical technology company Klingel medical metal GmbH in Pforzheim, has been awarded the quality seal "1A training company" by the Northern Black Forest Chamber of Trade and Industry (IHK). According to Georg Milo, the training commissioner of the IHK, currently only 79 of a total of 4,000 companies in the northern Black Forest may bear this seal, which is also unique in this form across Germany.
"The companies that are awarded the seal must offer more than the legislator prescribes," says Milo at the handover of the certificate in the presence of managing partner Ralf Petrawitz, heads of training Patrick Gauss (Klingel medical metal) and Sascha Döring (Josef Ganter Feinmechanik), Catarina Haberstroh (management assistant and marketing manager Klingel medical metal) and the apprentices of the two precision engineering firms. He continued that behind the seal was a comprehensive list of services that could be accessed on the internet at any time and that was something special for the training companies in question.
Managing director Ralf Petrawitz highly valued the mutual appreciation expressed by the handover of the certificate. He thanked all involved, particularly from the HR and training department, for their great commitment in matters of increasing the attractiveness of the apprenticeships at Klingel medical metal and Josef Ganter Feinmechanik. He said that they thus wanted to reflect the high value of the apprenticeship as a skilled worker and of what is in his eyes still the "golden craft". Petrawitz and Milo agree that performance and technical competence, even without a degree, are reflected in more responsibility and better payment if one takes the opportunities and uses them accordingly. And they were currently better than ever, as shown by the persistent demand for skilled workers. Due to the continuous growth, Klingel medical metal is also hiring further employees and/or taking on the apprentices after their successful completion of the apprenticeship. They were recently equipped with new tablets for "Mobile Learning in Smart Factories" (MLS) of the Nachwuchsstiftung Maschinenbau. "With its opportunities for connected working and learning, MLS is the suitable preparation of the future skilled workers for the Factory 4.0 of the connected production systems. Thus, even in new technological requirements, the apprentices will be able to develop and document solutions to problems in a self-organised manner," it says on its website. The apprentices were enthusiastic about the new apps and platforms with useful tools for the daily theoretical and practical instruction. "We will now save a lot of paper," they said. "This pilot project is a further milestone in our range of services, in addition to the integration of the apprentices in the company's social media presence," emphasised head of training Patrick Gauss – who is in close dialogue with his colleague Sascha Döring – and marketing manager Catarina Haberstroh.